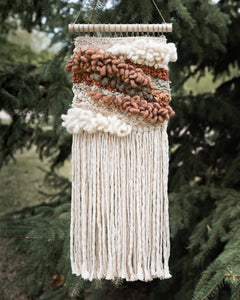 An earthy, forest floor inspired woven wall hanging that will warm up your space!
This piece measures 9" x 23"  (apx. 23cm x 58cm), from the dowel to the end of the fringe, not including the hanging string.
Materials: Solid wood dowel, linen warp string, recycled cotton ribbon, recycled cotton rope, wool yarn
Disclaimer: Due to screen calibration, colour may appear differently in person.